This morning I awoke to see
a video of a fashion parade in Ethiopia featuring disabled people
. The project created by the Ethiopian Fashion Designers Association included designs by 15 different fashion designers. The clothes were fashionable and stylish. During the accompanying package of the the designers, Tseday KebeDe, spoke about the need to design for disabled bodies. And importantly,
that fashion is for everyone.
My usual morning scroll through Instagram showed the stunning Jillian Mercardo gracing another magazine cover (below). This time photography magazine, Glassbook In demand, this US disabled model has graced multiple magazines, and been involved in multiple campaigns, including Beyonce's Formation campaign.

A few posts down and the beautiful Leopoldine Huyghues Despointes is featured in the pages of
Harper's Bazaar
Mexico wearing
Dior
. The
talented French actress, artist, activist
and model, is regularly seen in fashion campaigns.
A quick look around and the trend of including more disabled models in fashion campaigns overseas continues.

Model Alexandra Kutas made her debut at Ukraine Fashion Week in 2015. She continues to has grace runways is gorgeous designer gowns.
(Alexandra Kutas. Photo Credit
Andrey Sarymsakov
, from his
Break Their Chains
project)
Lebohang Monyatsi
(aka
The Rolling Goddess)
is gracing runways and photo shoots in her native South Africa.
Latvian-born, British model, singer, song-writer, DJ and
Bionic Pop Artist
Viktoria Modesta embraces avant garde. She has graced many a fashion magazine and fashion show and is an ambassador for bespoke prosthetics company
The Alternative Limb Company
.
(
Image
: Viktoria Modesta wearing the Spike Leg, created by Sophie de Olivera Brata and Kaos Art, Fitted at Ability Matters Clinic, Photographed by Ewelina Stechnij and Lukasz Suchorab.)
Haitian- American blogger
Mamacaxx
describes herself as "Survivor, Blogger and Role Model". She is also an
Alleles
Ambassador (
Alleles
manufacture stylish covers for prosthetics.). Her
Instagram
is a stunning fashion journey. She has featured in multiple magazines and continues to dismantle preconceived ideas around what disabled should be and should look like.
The fabulous American model
Melanie Gaydos
has featured in multiple
campaigns
. In particular high end and experimental fashion.
US based artist and model
Caitin Stickels
aka Caitin kitten is yet another disabled model demonstrating the beauty of difference. Her
V Magazine shoot is simply stunning
.
American actress and model
Jamie Brewer
(love her in
American Horror Story
) has walked in
New York Fashion Week
and been featured in various inclusive fashion campaigns.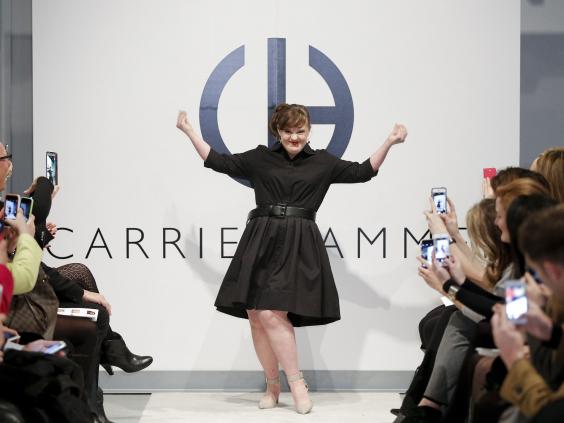 These are but a handful of the disabled models working around the world. Featuring in magazines and on runways.
Australia does have disabled models.
Madeline Stuart
has walked in
New York Fashion Week
amongst others and has featured in numerous magazines, and now has her own clothing line,
21 Reasons Why
.
The lovely
Angel Dixon
recently featured in
Target's
new campaign and has walked overseas for brands such
Bezgraniz Couture
.
Last year model and athlete, the gorgeous
Robyn Lambird
(I have serious hair envy) also appeared in a
Target
campaign.
Yet here in Australia I am yet to pick up a magazine, other than a
Target
catalogue, and see a disabled model. I can flip through everything from
Australian Women's Weekly
to
Vogue
and no where do disabled models appear. (Update:
Turia Pitt is currently on the cover of Australian Women's Weekly
as the featured interview. Whilst not modelling per se, her position on the front of a such an iconic and well-known magazine is still incredibly powerful given how few people with facial difference appear in, let alone on the front cover, of well-known magazines. Of note her first cover in 2014, was the
biggest selling of that year
.)
When brands and companies proudly announce they are embracing diversity, disability is never part of the campaign (Think
Vogue's
2017 attempt at a
diversity
cover. Problematic for so many reasons,
one of which was their continued obliviousness to disability in their diversity brainstorming
. Or local company
Myer
in 2016
alerting us to their new enlightened direction to move beyond the overwhelming whiteness
in their shows. With no mention of age, size, or, disability.)
Brands continue to pat themselves on the back for embracing different races, plus-sized models and more recently older models, (which is all fantastic)
but disability continually fails to be included in the mix.
Which leads to the question: do disabled people simply not exist in the minds of the Australian fashion industry?
I am a disabled 44-year-old woman who loves fashion. I use a walking stick and a wheelchair. I wear compression stockings. I dress up nearly every day. I celebrate self-expression through fashion. And I want to see myself and other disabled people represented on the catwalk and in the pages of multiple magazines. I want to know that the Australian fashion industry sees me, embraces me and values my existence. While I did love seeing Angel Dixon in the
Target
campaign recently, I am acutely aware how rare this experience is. With adults with disabilities largely forgotten by the industry.
I am not alone in my frustration. It is one shared by many other disabled people in Australia. Many of
us, myself included
, have not been happy to accept the status quo, instead creating our own fashion world on platforms such as
Instagram
(
was rather excited to be part of this article by Revelist
). We share our fashion expression and tips for dressing with style when using various mobility aides. We share knowledge of brands embracing disability (eg
Target
,
Nordstrum
,
FTL Moda
) or creating specifically with disability in mind (eg
Bezgraniz Couture, Sue
,
Vanilla Blush).
We note those companies who see our adaptive needs as a means to express ourselves (eg
Alleles
,
Adaptive Limb Company
,
LympheDivas
,
Top and Derby
,
IzzyWheels).
In the process our presence is actively challenging societal perceptions of what disability looks like and how we live our lives.
Disabled people are actively engaging in fashion.
Why isn't the industry here in Australia engaging with us?
The vast majority of fashion brands including, or actively making clothing for disabled people are still located overseas (with current dollar conversion rates and postage, frequently making them inaccessible to Australian residents).
When will we see the same push for the inclusion and valuing of disabled people by the fashion industry here in Australia? We are continuing to lag behind the rest of the world when it comes to disabled models on the runway and in fashion magazines.
Target
and
Kmart
are still two of the few companies here in Australia including disabled models in their advertising, especially when it comes to adult fashion.
Organisations such as
Startling with Julius
are actively advocating for the inclusion of disabled people in advertising. Thanks to their hard work there has been a slow but perceptible increase in the inclusion of disabled children in campaigns. However adult representation apart from the aforementioned campaigns, remains sorely lacking.
It's not good enough.
In Australia 1 in 5 people are living with some form of disability (roughly 4,756,000 people). Why aren't we represented in advertising, in magazines or on the catwalk? Overseas numerous fashion weeks and magazines are including disabled models. From Russia to Ethiopia, South Africa to Mexico, Japan, the USA, Hungary, the Ukraine, the UK, the Netherlands, the list goes on, all have included disabled models. If they can see the value of inclusion and embrace the beauty of difference why don't we?
I ask the Australian fashion industry once again,
"Why don't you see me?"
Michelle
Musical accompaniment had to be the amazing Viktoria Modesta with
Prototype
.